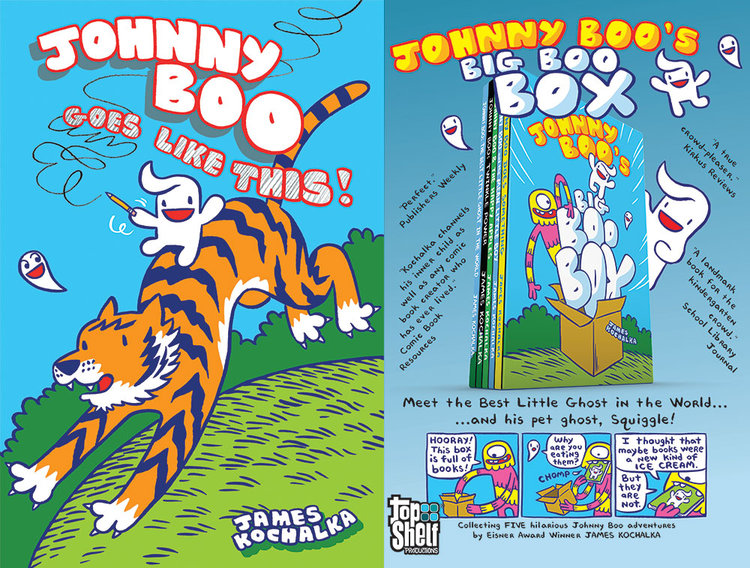 Johnny Boo (Book 7): Goes Like This!
Story & Art by James Kochalka
ISBN: 978-1-60309-384-2 • Diamond: JAN16-0450
$9.99 (US) • 48-page full-color hardcover, 6" x 9"
In stores March 2016
Johnny Boo and Squiggle come across a giant pencil! Is it... magical? Whatever it is, when Johnny Boo draws with it, his drawings come to life. Before you know it, they're off on another adventure, filled with tigers, ice cream monsters, and truly unbelievable hairstyles. Celebrate the power of creativity - the Johnny Boo way!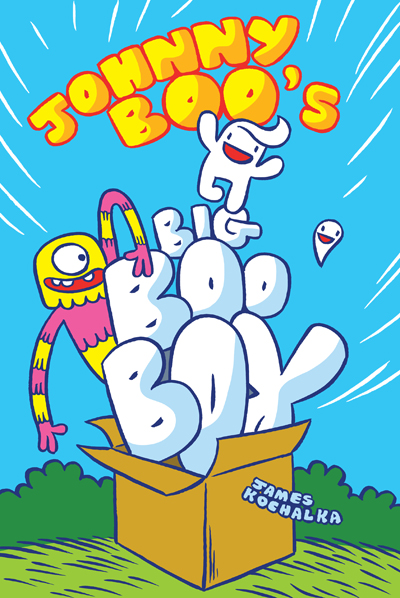 Johnny Boo's Big Boo Box (Slipcase Set of Books 1-5)
Story & Art by James Kochalka
ISBN 978-1-60309-385-9 - Diamond: JAN16-0451
$39.99 (US)
In stores March 2016
Johnny Boo is the best little ghost in the whole world, because he has Boo Power. This means that he can go "BOO" really loudly! His pet ghost named Squiggle has Squiggle Power, which means that he can fly and do really fast loop-the-loops. Together they have the world's greatest ghost adventures! And now, for the first time, the first five books of the full-color, all-ages hit series are collected into one handsome slipcase edition: JOHNNY BOO'S BIG BOO BOX!
Collecting Johnny Boo's first five fan-favorite adventures:
Johnny Boo: The Best Little Ghost in the World
Johnny Boo: Twinkle Power
Johnny Boo and the Happy Apples
Johnny Boo and the Mean Little Boy, and
Johnny Boo Does Something!
-- Slipcase set of Johnny Boo (Books One thru Five)
-- FIVE 40-page full-color hardcover graphic novels, 6" x 9" each
-- SLIPCASE DIMENSIONS: 6.5" x 9.5" x 2"
Pirate Penguin vs Ninja Chicken (Book 2): Escape from Skull-Fragment Island!
Story & Art by Ray Friesen
ISBN: 978-1-60309-367-5 • Diamond: JAN16-045623
$14.99 (US) • 112-page full-color hardcover, 6.5" x 8.5"
In stores March 2016
Set phasers for maximum silly: Ray Friesen, the non-stop sugar rush called by BOOKLIST "a manic blend of mayhem and adventure," is back for more! When Pirate Penguin and Ninja Chicken stumble across a mystical lost sword, a rip-roaring aquatic adventure ensues, with appearances by cousin Privateer Puffin, the terrifying Pirate Queen, and two unforgettable "mermaids." PLUS: our heroes get trapped in a Swedish furniture store, and a dozen more wacky short stories!